ABOUT US
Tsukiden Electronics Philippines, Inc. is an electronic manufacturing service provider in the Philippines, offering surface mount technology up to final product assembly.
We cater to different companies worldwide from the field of medical, industrial, telecommunications, automotive and consumer products.
With decade of experience in electronics service, we gain trust from our customers through our certified systems compliance to ISO 9001, ISO 14001, OHSAS 18001, and IATF 16949.
For customer's satisfaction, we offer one stop shop solution through partnering with various Supply Chain providers, including assistance for start-up business ventures.
COMPANY PROFILE
Tsukiden Electronics Philippines, Inc. is a wholly owned subsidiary of Tsukiden Hong Kong Ltd.
: 124 North Science Avenue Laguna Technopark, SEPZ Binan, Laguna, Philippines
– Start of Commercial operation
: Php 300,000,000 (US$7M)
: PCB Assembly, Chip-On-Flex (COF) Assembly, Complete Build Assembly, Audio Amplifier Assembly, Testing and Inspection of Industrial Control Panels
: 28 SMT lines (@635M shot count/ month)/ 7 Solder Wave lines
Batangas Plant/Warehouse:
: Bldg 10 EZP Compound LIMA Technology Center, Malvar Batangas, Philippines
– Start of Commercial operation
: Php 10,000,000 (US$210K)
: Box Build Assembly Production and Warehousing of Electronic Assemblies
COMPANY HISTORY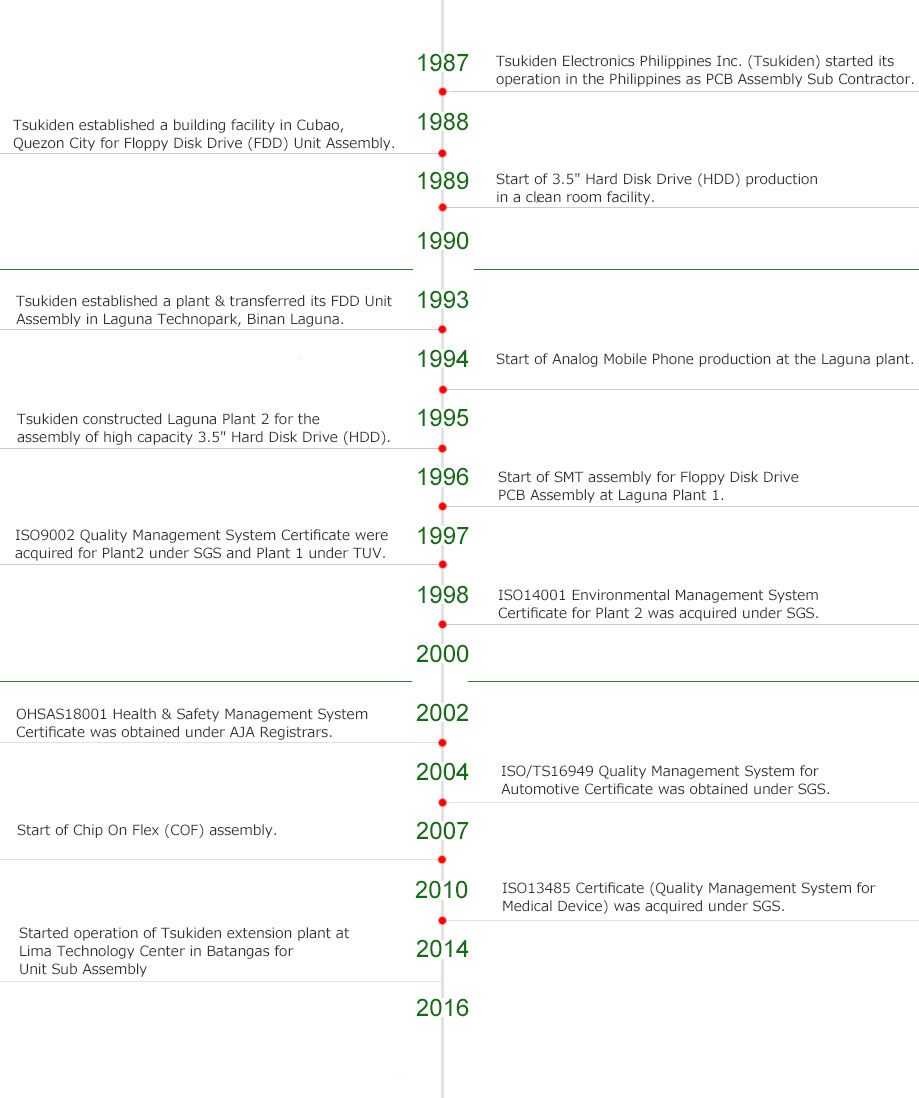 1987
Tsukiden Electronics Philippines Inc. (Tsukiden) started its operation in the Philippines as PCB Assembly Sub Contractor.
1988
Tsukiden established a building facility in Cubao, Quezon City for Floppy Disk Drive (FDD) Unit Assembly.
1989
Start of 3.5″ Hard Disk Drive (HDD) production in a clean room facility.
1993
Tsukiden established a plant & transferred its FDD Unit Assembly in Laguna Technopark, Binan Laguna.
1994
Start of Analog Mobile Phone production at the Laguna plant.
1995
Tsukiden constructed Laguna Plant 2 for the assembly of high capacity 3.5″ Hard Disk Drive (HDD).
1996
Start of SMT assembly for Floppy Disk Drive PCB Assembly at Laguna Plant 1.
1997
ISO9002 Quality Management System Certificate were acquired for Plant2 under SGS and Plant 1 under TUV.
1998
ISO14001 Environmental Management System Certificate for Plant 2 was acquired under SGS.
2002
OHSAS18001 Health & Safety Management System Certificate was obtained under AJA Registrars.
2004
ISO/TS16949 Quality Management System for Automotive Certificate was obtained under SGS.
2007
Start of Chip On Flex (COF) assembly.
2010
ISO13485 Certificate (Quality Management System for Medical Device) was acquired under SGS.
2014
Started operation of Tsukiden extension plant at Lima Technology Center in Batangas for Unit Sub Assembly
MESSAGE
PRESIDENTS MESSAGE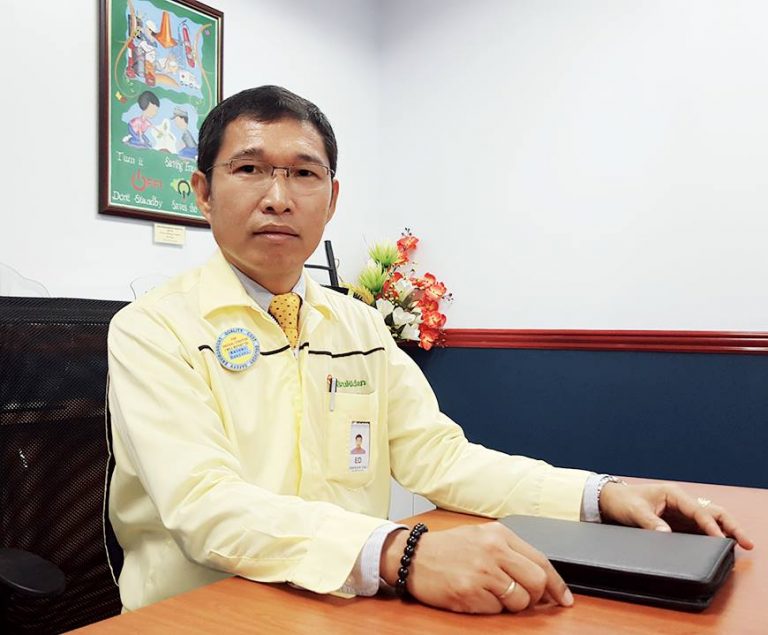 "Tsukiden Electronics Philippines, Inc. has been in the Electronic Manufacturing Service for more than twenty (20) years. Incorporated in March 1992, as a wholly owned subsidiary of Tsukiden Kogyo Co., Ltd. of Japan.
In August 1993, Tsukiden started the assembly of Floppy Disk Drive while Hard Disk Drive assembly commenced in September 1995. Due to fast growing market demand of electronics assemblies, we expanded our operation and added Printed Circuit Board (PCB) assembly, Flexible Printed Circuit (FPC) assembly and complete electronic device assembly in our portfolio of business in March 2014.
To date, were serving different customers and applications worldwide from the field of medical, industrial, telecommunications, automotive and consumer electronics. Equipped with a mindset for high quality and reliable product/services, we continue to stay true to our vision of "Bridging Customers to their Needs".
With certification systems ISO 9001:2015; ISO 14001:2015; IATF 16949:2016 and OHSAS 18001:2007, and customer focused production set-up, supported by flexible and motivated employees as a perfect recipe to excellent quality and competitive price and with the use of latest surface mount technology (SMT) machines, test equipment's and processes that can do both "high mix low volume and low mix high volume production, surely our customer will gain only the benefit of this partnership.
Aiming to be the No.1 EMS provider in the Philippines, we are working under the slogan of "Work Hard, Work Smart and be competitive to exceed customer satisfaction" which manifest our intense desire to be more innovative in every aspects to offer affordable value with high quality products to our customer.
Welcome to our website!
I hope you'll find the information you need to know, because "customer's-first"."
                                                                                                                                        EDGARDO B. ETAC
                                                                                                                                         President
OUR MISSION
"To be the preferred company providing high value added Electronic Manufacturing Services to our customers."
OUR VISION
"Your EMS (Electronics Manufacturing Services) provider, BRIDGING CUSTOMER TO THEIR NEEDS"
COMPANY AFFILIATIONS
OVERSEAS OPERATIONS
Tsukiden Kogyo Co., Ltd. (TKJ)
Address: 18-1 AzaKamikada, Houkida Fukushima City, Fukushima Pref., 960-8163 Japan
Contact No.: 0081 245 460537
Email:
Website: http://www.tsukiden.com/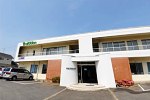 Tsukiden Hong Kong Limited (THK)
Address: Unit 2, 15/F, New Landwide Comm. Bldg. No.73, Kimberley Toad, TST, Kowloon HK
Contact no.: (852) 2885 2831



Website: N/A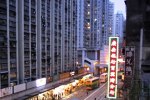 Tsukiden Software Co., Ltd.
Address: 68 Okitaka, Taiheiji, Fukushima City, Fukushima Prefecture, Japan, 960-8151
Contact No.: 024-539-8400
Email:
Website: http://www.tsukiden.co.jp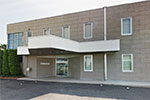 PHILIPPINE OPERATIONS
Tsukiden Electric Industries Philippines Inc. (TEIPI)
Address: 101 Technology Avenue, Laguna Technopark, SEPZ, Biñan City, Laguna, Philippines
Contact No.: (049) 541-3166


Website: http://tsukiden-industries.com/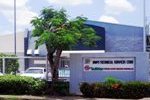 Tsukiden Global Corporate Services Inc. (TGCSI)
Address: 124 North Science Ave. LTI-SEZ, Binan, Laguna 4024, Philippines
Contact No.: (049) 541-3049



Website: http://tsukiden-global.com/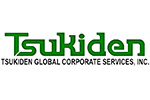 Career Power Professional Management Services Inc. (CPPMSI)
Address: 4th Floor, Phase 1 Banawe De Sta. Rosa Bldg, F. Reyes Road Purok 6 Brgy. Balibago Sta. Rosa Laguna
Contact no.: (049) 530-3161 to 3162



Website: http://careerpower.com.ph/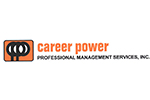 Tsukiden Global Solutions, Inc. (TGSI)
Address: 2102 One Corporate Centre, Julia Vargas Corner Meralco Avenue, Ortigas Center Pasig City 1605 Philippines
Contact no.: (63) 2-477-8474



Website: http://www.tspi.com.ph/